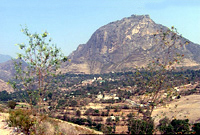 Much of this documentary was shot in Oaxaca, in the southern part of Mexico. This region is one of the world's great centers for crafts and folk art, with a history reaching back more than two thousand years. The traditions are very much alive today! Many villages here specialize in a single craft: pottery from local clays; weaving from sheep's wool; basketry made of palm frond; or alebrijes.
View video: Oaxaca, Mexico.
Alebrijes
In the village of Arrazola, many families have home studios where they carve copal wood from nearby forests into alebrijes (ah lay bree hays). Other family members do the intricate painting that bring these imaginative carvings to life. These wooden creatures - monsters, animals, and everything in between - are popular with tourists for their beauty and authenticity.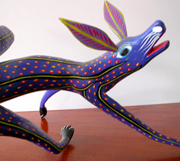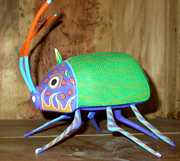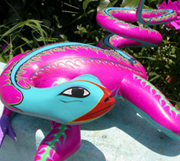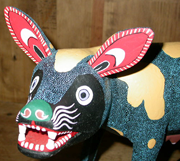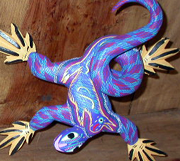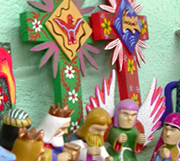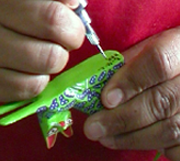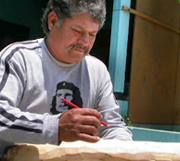 3-D Ribbon Weavings
Priscilliano, like many from Oaxaca who now live near the US border, supports his family by weaving little animals and baskets and selling them in Ciudad Juarez. "For us, [weaving] is like an inheritance that our grandparents left us. And we go out into the city and find ways to earn money with our work. Because we know there are others that don't know where to go or what to do. They don't have money and they don't know where to work to earn some money. But at least we can trust that we know what to work on. Even though we know we will struggle, at least we know that we can weave this little animal and go to a house and sell it and earn 5 or 10 pesos and then share it with the family. View video: Priscilliano Making a Weaving.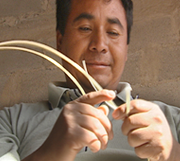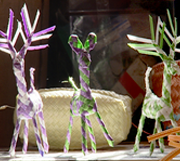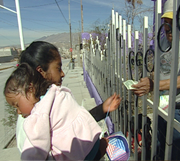 ---
For more information about this website.
Contact the webmaster to report any problems with this site.
New Mexico State University is an equal opportunity/affirmative action employer and educator. NMSU and the U.S. Department of Agriculture cooperating.